TOYOTA GAZOO Racing will continue to promote customer motorsports support in 2022
TOYOTA GAZOO Racing (TGR) has announced its customer motorsports activities*1 for 2022.
This year, TGR will continue to proactively support customer motorsports in various ways globally, and based on valuable feedback gained from customers at races, continue to strive to "make ever-better motorsports-bred cars."
SEE ALSO: 11 Essential Things In Your Roadside Emergency Kit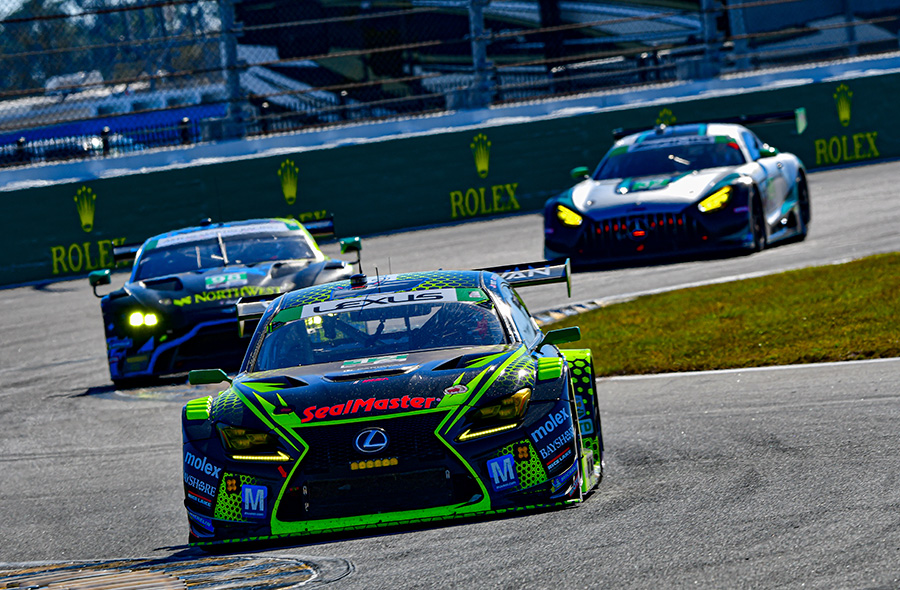 The 2022 Super Taikyu Series in Japan will start on March 18. A total of four TGR customer motorsports vehicles from four separate teams, one LEXUS RC F GT3 and three GR Supra GT4s, have been entered into this year's Super Taikyu Series.
Globally, in races such as the IMSA WeatherTech SportsCar Championship in North America, the Thailand Super Series, and the GT4 European Series, even more customers than last year will enjoy races with the LEXUS RC F GT3 and GR Supra GT4.
Feedback obtained from customers through race participation will be used for future development and to update products. TGR will put even more effort into customer motorsports with the aim of enabling customers around the world who love motorsports to easily enjoy racing.
LATEST: Introducing the new V12 Vantage: A Spectacular Finale for an Iconic Bloodline
| | |
| --- | --- |
| *1 | Motorsports activities in which customers (private teams) purchase commercial vehicles tuned for races from manufacturers and take part in races |
Details of Support Plan
LEXUS RC F GT3
Through customer support for LEXUS RC F GT3, we provide opportunities for customers around the world to participate in GT3 races. It is also leveraging the technologies developed through race participation into enhancing its products by applying feedback to production vehicles.
Region
Series
Class
Team
Number of Vehicles
U.S.
IMSA WeatherTech SportsCar Championship
GTD Pro
VASSER SULLIVAN
1
GTD
1
Japan
SUPER GT
GT300
K-tunes Racing
1
Super Taikyu Series
ST-X
apr
1
Asia
Thailand Super Series
GT3
Toyota Team Thailand
2
GR Supra GT4
The GR Supra GT4 is a dedicated racecar that was developed based on the GR Supra production vehicle.
Sales started in Europe in March 2020. Starting in August, sales regions were expanded to North America and, from October, to Japan and Asia. Thanks to the support of customers worldwide, total cumulative sales to date reached 50 units at the end of 2021, approximately a year and a half after sales started.
In 2021, a total of eight GR Supra GT4 vehicles operated by five teams in Europe, four vehicles from four teams in North America, and seven vehicles from six teams in Japan participated in approximately 100 races in various GT4 categories. With a total of 184 entries, 18 victories in GT4 championships around the world and the Super Taikyu series in Japan, and 46 podium finishes, the high potential of our cars has been demonstrated. We also receive advice on our cars and components from various customers worldwide and are working together with them on improvements. In Japan as well, race teams like ROOKIE Racing and many others have been providing feedback through which we have been growing and improving.
In 2022, the number of entries will be expanded further, and around ten GR Supra GT4s each in Europe, North America, and Japan will participate in various races as shown below.
2022 GR Supra GT4 participation (provisional)
Europe
GT4 European Series, Nürburgring Langstrecken Serie, ADAC GT4 Series, DTM Trophy, British GT Championship, GT4 Scandinavia, etc.
Japan
Super Taikyu Series, Inter Proto Series, FANATEC GT World Challenge ASIA, etc.
North America
IMSA Michelin Pilot Challenge, Pirelli GT4 America, etc.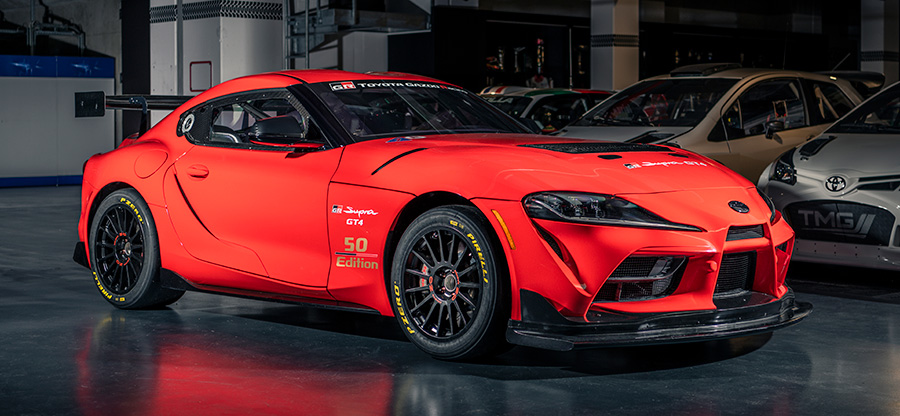 GR Supra GT4 "50 Edition", commemorating 50 GR Supra GT4 units sold